The Agency for the Promotion and Support of Tourism of the Republic of North Macedonia (APPT) published a gastronomic map and guide for traditional specialties that are an important part of the offer in the regions, and as they say, with the aim of enriching the tourist offer and increasing the promotion of the state. From there, they soon announced video materials for the same purpose.
APPT says that the illustrated gastronomic map aims to map the regions where there is a traditional preparation of Macedonian dishes, and that the idea is to invite tourists on a gourmet tour around the country.
Meanwhile, they say that the brochure, on the other hand, contains photos and texts about the country's gastronomy, culture, food or other drink that goes with the recipe, and events or manifestations related to gastronomy.
"The gastronomic guide is in the form of travel stories about the flavors of the Republic of North Macedonia, translated through interesting stories about gastronomy, wine, tradition, folklore and cultural heritage in our country, the recipes are specific in terms of origin, how they are prepared, which products are required for the traditional specialty, legends about certain local traditions. The brochure contains local or regional traditional recipes for certain dishes from all 8 planning regions, characteristic of that region or a local place from that region," says the Agency for the Promotion and Support of Tourism of the Republic of North Macedonia.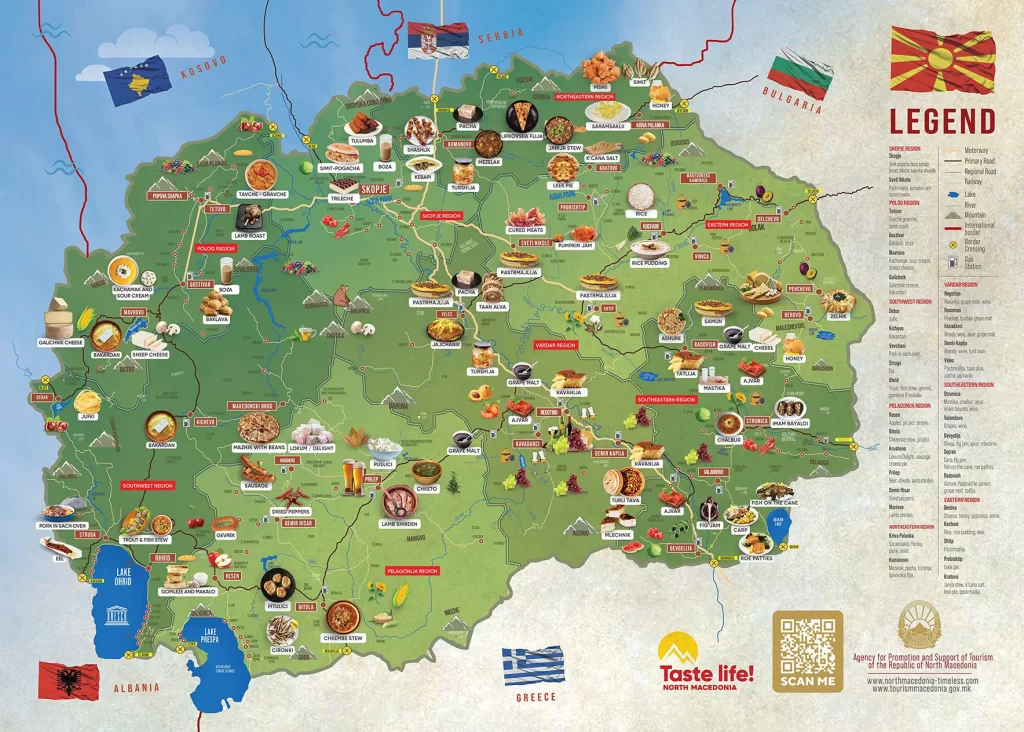 We can say that this time they make a really good job, visitors to our country have the easiest way to discover the best traditional Macedonian food that you taste in every region of Macedonia. 
The full map you can download in the next link: GASTRONOMIC MAP . 
The full interactive guide by region you see on the official webpage of the agency or in the next link: THE TASTE OF OUR COUNTRY